You can absolutely transform how you show up in this industry once you master a niche like hair color!
After 17 years in this industry, I've spent the last 5 years teaching hair stylists how to create amazing color transformations.
 While teaching them, I've noticed that they all WANT to make more money, but these were the top 4 things stylist are struggling with when it comes to offering hair color services in the salon.
Do These Sound Familiar?
You don't feel confident in your approach to technique (foiling, placement, etc.) or formulation (understanding developers, proper lifting, or toning).
You are worried about properly charging for your color services because you fear clients will reject your new price point.
You want more tips on how to execute proper consultations to ensure achievable results.
You're not sure why you aren't meeting your clients expectations which results to redo's, or refunds.
Click HERE To Learn More!
You're ready to charge more to do less!
Right now you're burned out in the salon because you're only offering basic $50 services on 30 clients a day, when you can easily add a premium hair color service and make $1,000+ a day with 3 clients or less!
The only issue is, you struggle with the confidence needed to create amazing, breathtaking color transformations on textured hair!
But, after enrolling in free education classes, watching "how to" hair color videos on YouTube, and IG reels, you still don't have the skills or technique needed to attract quality color clients.
Which has you feeling frustrated and ready to give up on your dream of becoming an expert hair colorist.
Click HERE To Learn More!
Get ready to bring in 5 figures a month with hair color services ALONE!
Complete confidence in your hair color skills is absolutely possible once you learn my Master Colorist Curriculum. It's the same exact strategy that I've used over the past 5 years to help hair stylists accomplish their hair color transformation goals .
Imagine how much more CONFIDENT you'd feel once:
You feel secure in your hair color knowledge and know the exact steps to achieving the transformational results your clients are looking for.
You become more profitable in the salon because you now have quality clients that trust your knowledge and expertise as a colorist.
You are able to educate your clients with the specifics of the hair color process as you take them from "Before to After".
You hit your 1st 5 figure month on hair color services ALONE!
Click HERE To Learn More!
Here's your solution!
Hair Color Concepts® Academy: is online education designed to help you gain more confidence in your hair color skills while helping you attract quality color clients at a premium price point.
CHECK OUT THE CURRICULUM!
MODULE 1:
The Foundation- Everything You DIDN'T Learn in Cosmetology School:
You will go deeper into the foundation of hair color theory that cosmetology school did and did not teach you! This is so you can understand WHY you are doing what you are doing and WHY you are using what you are using, especially when it comes to highly textured hair.
MODULE 2:
Client Color Plan- Executing an Amazing Consultation:
You will learn how to break down your clients color history, lifestyle, and color goals, so you can get a more clear idea of how to execute your clients desired hair color.
This module plays a vital role in learning how to properly formulate for your client's hair color.
MODULE 3:
Foundational Placement- Super Easy Color Techniques:
Module 3 is 6 weeks of the program. During these 6 weeks, you will learn foundational placement, weaving, balayage and toning techniques to use based on the clients curl texture and desired look, so you can create more seamless hair color.
MODULE 4:
What's next?- Flawless Color Maintenance:
You will learn exactly what your clients need to maintain their hair color investment at home as well as their next steps in the salon so you can ensure their hair remains healthy while being color treated.
MODULE 5:
The Business of Hair Color- Working Less & Earning More:
You will learn how to successfully price & market your hair color services that work specifically for your business so you can ensure you consistently generate 5 figure months on hair color clients alone.
Workshops:
Bonus Hands On Training
Throughout your membership you will have access to Bi- Weekly or Monthly group Q & A calls and/ or technique workshops.
Placement, weaving, balayage, and a toning workshop are all a part of your investment should you choose the 10 week intensive program.
Which program is best for you?!
Academy MENTORSHIP Program
$2997
3 month 1 on 1 Mentorship + Accountability tailored to your skill level and current needs.
I'm Ready to Join The Academy!
This is
NOT

for you if:
You're NOT ready to invest and grow in the color world.
You're "OK" with taking 20 clients a day just to break even.
You can't confidently see yourself providing premium services that require you to charge premium prices.
You're afraid of charging the price that meets the level of your skillset
You're not a current cosmetology student or a LICENSED cosmetologist
This IS for you if:
You're a beginner stylist or new to the world of hair color.
You know the basics of hair color and have a few consistent color clients, but you need more detailed education to take their color to the next level.
You're ready to invest the time to learn what's holding you back for making hair color your niche in the salon.
You're ready to stop playing small and get more confident in your work and your price point.
I'm Ready to Join The Academy!
Not sure which program is best for you?
Not sure if you need a virtual or in person 1 on 1? Can you handle the monthly self paced membership alone, OR do you need the full 10 week training that also includes group coaching with weekly and bi-weekly hands on workshops?
This call will determine which program will work for you and your current training needs.
Schedule My FREE Call So I Can Join HCC® Academy!
Lenise Robinson
"I have been coloring hair for a while now, but I never truly LOVED my color work. I did a lot of guessing when it came to formulation, and just hoped for the best based on what I've learned over the years of taking color classes.
Last year, I decided to put more intention around my color education (and "intention" happened to be my theme for 2022 so it made sense), and that led me to AJ Small's Hair Color Concepts Academy which has been an absolute color goldmine!
The best thing about The Academy is that it's basic enough for new colorists but thorough enough to give even the most experienced colorist several AHAs. AJ's passion and her commitment to excellence are what drove me to not only complete her 10-week intensive, but also her 3-day in-person, hands-on class. The education was just that good y'all!"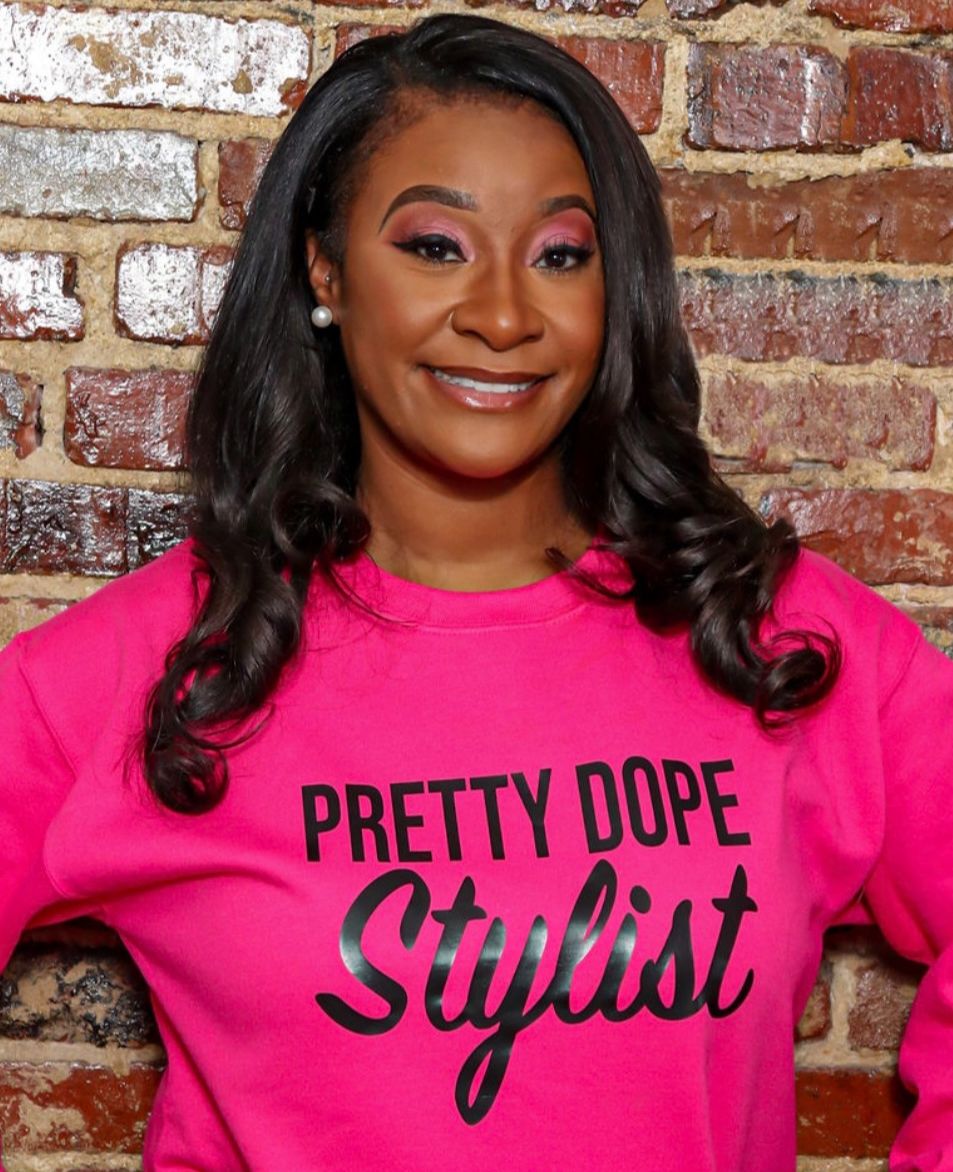 Melanie Hyman
"As a brand new stylist in the industry,I was terrified of hair color. I struggled with techniques, placement, and formulation.
After the 10 week intensive and the 3 day Color Mastery class, I'm more confident and eager to get my hands on some color!
I enjoyed the hands on portion of the classes where we are able to work through the techniques with AJ as our guide. Although it was fast paced, we were still able to get our questions in.
Even if sessions were suppose to be 90 minutes, AJ would not rush through them to make sure we were retaining the information she presented to us.
The most helpful thing about the academy is having the opportunity to go back and watch the classes at your own pace so, if you missed something during the live classes, you can catch it on the replays.
I would encourage any stylist who has not had color education outside of cosmetology school to take classes inside of the academy.
AJ is doing an amazing job with it! I absolutely love her teaching style and her passion for the craft!"
Ebony Harris
"Before joining The Academy, I didn't know how to formulate correctly and I didn't feel comfortable doing whatever the client wanted done. It was amazing having an instructor like AJ who understood this struggle and was down to earth and very easy to understand.
The most helpful part about the academy was being able to learn the science behind formulating color correctly. I'm more confident and ready to take on more color challenges and experiences!"
Tamy Cozier- Charles
"AJ is very knowledgeable and the way she breaks concepts down can work for anyone...whether you're a complete beginner or veteran. It's also great that she demonstrates via video. I'm a visual learner so I need to see how something is done.
AJ is very knowledgeable and the way she breaks concepts down can work for anyone...whether you're a complete beginner or veteran. It's also great that she demonstrates via video.
I'm a visual learner so I need to see how something is done.
I've used AJ's placements on a few of my color clients and the results were on point! This class is a must for anyone who would like to become a better colorist."
Kendra Willis
" I got EXACTLY what I came for! My struggle in the beginning was understanding formulations and placement techniques. AJ taught me how to breakdown formulations in the most basic way to the point where I was able to understand the more complex versions of color lines. I can now use any color line and know exactly what I'm looking for!
I got EXACTLY what I came for! My struggle in the beginning was understanding formulations and placement techniques. AJ taught me how to breakdown formulations in the most basic way to the point where I was able to understand the more complex versions of color lines. I can now use any color line and know exactly what I'm looking for! "
Demonica Allen
"AJ Small's ability to relay theory and practical application is the best to which I have been privy. AJ was never "secretive" in sharing her knowledge. She worked tirelessly to insure that her graphics, charts, or classroom material enhanced our understanding of the discussion topic.
I began this class as a complete novice and as a recent graduate, I now have the confidence of color theory, techniques, product & tool knowledge, and a network of fellow hair colorists to conquer any color situation that I find myself."
Kymberlee Barnett
"The struggles that brought me to HCC Academy were navigating the current trends as well as refreshing the traditional with simplicity and taking away the guesswork to yield consistent results. HCC Academy has been most helpful for me to create a standard for my color business and adhere those tools given across the board. The foundational education along with the upgraded techniques is gold!
Since enrolling the mindset changes have been the best for me. Paired along with the skill set behind the chair..major upgrade!"
Ra'Shawnda Henson- Cooper
"My favorite part of the program was how easy AJ made it for us to understand the material. It was also an added bonus that she kept me laughing all while learning. She breaks down the information and makes it relative, and for me that's important for information retention. I love that she truly genuinely in concerned with our success and will do what is needed to make sure we have an arsenal of knowledge for every facet of our business."
LaCretia Baskfield
" The whole HCC program is AMAZING! The workbook is clear, concise, and thorough. The modules are packed with information but understandable no matter how long you've been in the industry.
I was always anxious and nervous doing color clients. Literally, after the first orientation call, I knew that this was the place for me to finally build my confidence. Now, I go into the color appointments with a solid plan and know how to make adjustments when necessary. I feel a lot more confident behind the chair! "
Why I needed, what I'm now offering!
In 2005 I graduated from a predominately white cosmetology school that only taught me enough to pass the state board. There was no focus on hair color beyond what would be on that test OR no education on how to work with the specific needs of highly textured hair, and THAT didn't get me far once I was in a salon.
Once in the salon, I had no idea how to handle situations such as color corrections or how to mimic any picture a client brought to me to replicate.
It wasn't until I completely TORE UP somebody's hair that I knew I needed to take it upon myself to take more classes and get the foundation I didn't receive in cosmetology school.
I took 3 full years and invested in additional hair color education from some of my favorite colorist, color brands and even took the time to get my cosmetology instructor's license, so that I had a full understanding of not only hair color, but how to educate other stylist in a way that worked for them.
Click HERE To Learn More!
PRESS PLAY ▶️
HCC® Academy Student: Monique Carr of Birmingham, AL
" She gives a WHOLE lot of information! You're definitely going to get your monies worth! You're able to understand the instructions and if you don't understand, she is still there and willing to make sure you do understand it!"
Don't let fear keep you from your 5 figure months!
What's stopping you from investing in a niche that can triple your income while doing LESS work?! Hair color can change the trajectory of not only your salon business, but your creativity and I want to be the one to show you how!
I promise we won't send spam. You can unsubscribe at any time.
Meet Your Hair Color Concepts® Academy Educator
Adrienne Small has been a licensed stylist since 2005. Her creative nature has always been a driving force in her career, and after 10 years of experience, she shifted her focus to hair color. In 2018 she started sharing her knowledge with stylists by hosting color classes which encouraged her to obtain her instructors license in 2021.
For Adrienne, the most fulfilling part of teaching is witnessing her students experience "aha" moments in real time. She has a deep passion for helping her students connect the dots and become better and more equipped colorists.
Adrienne's expertise in hair color has earned her a reputation as one of the top educators in the industry. She has a unique approach to teaching that combines theory, hands-on practice, and real-world experiences. Her students rave about her ability to simplify complex concepts and techniques, making them easy to understand and implement.
Adrienne is also an advocate for inclusive beauty. She believes that everyone deserves to feel beautiful and confident, regardless of their background, gender, or identity. Her classes are welcoming and supportive, and she encourages her students to embrace their individuality and express themselves through their work.
Before retiring from behind the chair, Adrienne was a sought-after stylist and colorist. Her work has been featured in numerous publications and she has worked with clients from all walks of life, including celebrities and influencers.
Whether she's in the classroom or the salon, Adrienne's passion for hair color and education shines through. She is committed to helping her students and clients achieve their goals and feel their best.
I'm Ready to Join The Academy!